1st Engineering Department
Engineer Mr. Z.OJoined the company in 2013
【Design Record】
Ammonia synthesis plant pressure vessel (Turkmenistan), High-efficiency power generation facility pressure vessels (domestic)
The stimulation of constant learning

It all began because I liked math. I studied drafting in China and came to Japan to learn more. When I first came to Japan, I could only speak enough Japanese to introduce myself, so I studied at a Japanese school, and then transferred to a university and eventually completed graduate school. I joined Design City Japan because I wanted to make the most of my expertise. I decided to take a chance and see how far hard work would take me, and I studied, researched and kept a notebook of everything I learned. Now that I have it in my head, I don't open it very often, but I keep it on the shelf next to my desk, so I don't forget my journey or how I came to be here.

Enthusiastically recording know-how in a notebook
A delivery target of more than 40 machines including storage tanks and towers!

A long-awaited trip home for a year of training

Five years ago, I was asked to participate in a project to provide design support for a partner plant engineering company that was making machinery and equipment at a factory in China for export to a chemical plant in the Middle East. I accepted of course, but the work was quite difficult. (laughs) Checking drawings, managing processes, translating technical terms… I wouldn't have been able to be useful without understanding the entire project, and the number of devices was almost overwhelming. Over the year, I accumulated knowledge at a tremendous rate. I still keep in touch with the business partners that I met during that time.
Living in the present, but with an eye on the future

After returning to Japan, I informed my boss that I had an interest in calculation work. In Sichuan I became keenly aware that the drawings alone were not sufficient. As a result of that study, the amount of work that I can do alone has increased substantially. I am currently in charge of instructing four young engineers at the head office. It is very rewarding to see their progress as I verify their drawings, provide feedback etc.  Living in Nakatsu? It is enjoyable. It is close to both the mountains and the sea, like my hometown in Fujian. I am enjoying various experiences there, like sweating it out with a local volleyball team, participating in the annual "Tsuruichi Hanagasa Festival," where you carry a colorful "Hanagasa" with the locals and parade through the city. When I first joined the company, I wasn't very good at communicating with people, but thanks to the pleasant interactions I had both inside and outside the company, I became very fond of communication. My dream now is to grow further and learn more about various technologies, eventually to set up a Chinese branch office of Design City Japan in the future.

Wishing for a good harvest – Tsuru City Hanagasa Festival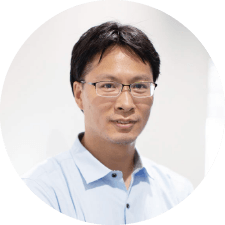 To relax at home after work, I work out and listen to music.

New graduate recruitment
Fall of 2023 university graduates click here

Mid-career positions click hereENTRY FORM